Via Scoop.it – Culturally Teaching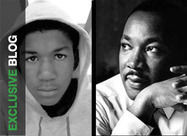 The echo of Martin's last words ring in my head. It rained that night. A drizzle. Not a downpour, just a Memphis, Tennessee drizzle. It seemed like he knew. It seemed like someone had let him know….
…Just a quick walk to the store and back. Put the hoodie up 'cause of the drizzle. Pop. One Pop. Young Martin. Silent. I wish he knew 44 years later, we hadn't made it to the top of the mountain.